Welcome to Strategic Sales Solutions a division within FNTG that works with all brands in 43 states. We are a team of experienced professionals that have walked the walk of the title industry. We have Elite Sales and Escrow Coaching programs designed to propel your business to the next level. This site shows you all of the options for Elite Escrow Coaching. Sign Up Today!
Samia Reichel, Vice President of Escrow Development is a veteran in her field. With 28 years in the title and escrow industry she brings experience, knowledge and expertise to her role as a coach. She began her journey with this great company on the escrow side 27 years ago and transitioned into sales in 1996.  In Samia's tenure with the FNF Family of companies she has consistently been ranked in the top 3% nationwide.
Although Samia has enjoyed professional success she prides herself on her dedication to her role as a wife and mother. Samia lives in Hollister, CA with her husband of 29 years, Michael. Samia has 2 grown daughters, Nicki and Sara. Samia followed in her father and mother's footsteps in the title industry and is proud to say the dynasty continues with her daughter Nicki continuing the family tradition as an escrow officer within the FNF family!
Samia prides herself on her passion and drive to encourage her clients to find the magic outside their comfort zone allowing them to achieve their goals. Samia offers one on one Elite Escrow Coaching and Enrichment, The Elite Club for graduates of Elite Coaching and Leadership training through FNTG's Leadership Academy.
Samia is dedicated to the personal and professional growth of her clients, sharing best practices and team concepts and bringing a new level of strength we can offer our employees. She will walk beside you on your journey. Samia always says "it's about we, not me. together everyone achieves more." Steve DeLaveaga says "Samia has an iron fist in a velvet glove!" Be ready to work and have fun!
You might also catch Samia speaking and sharing her proven road map to success at Rally's and Events around the country. Looking to take your business to the next level and be excited to come to work? You came to the right place. SIGN UP TODAY!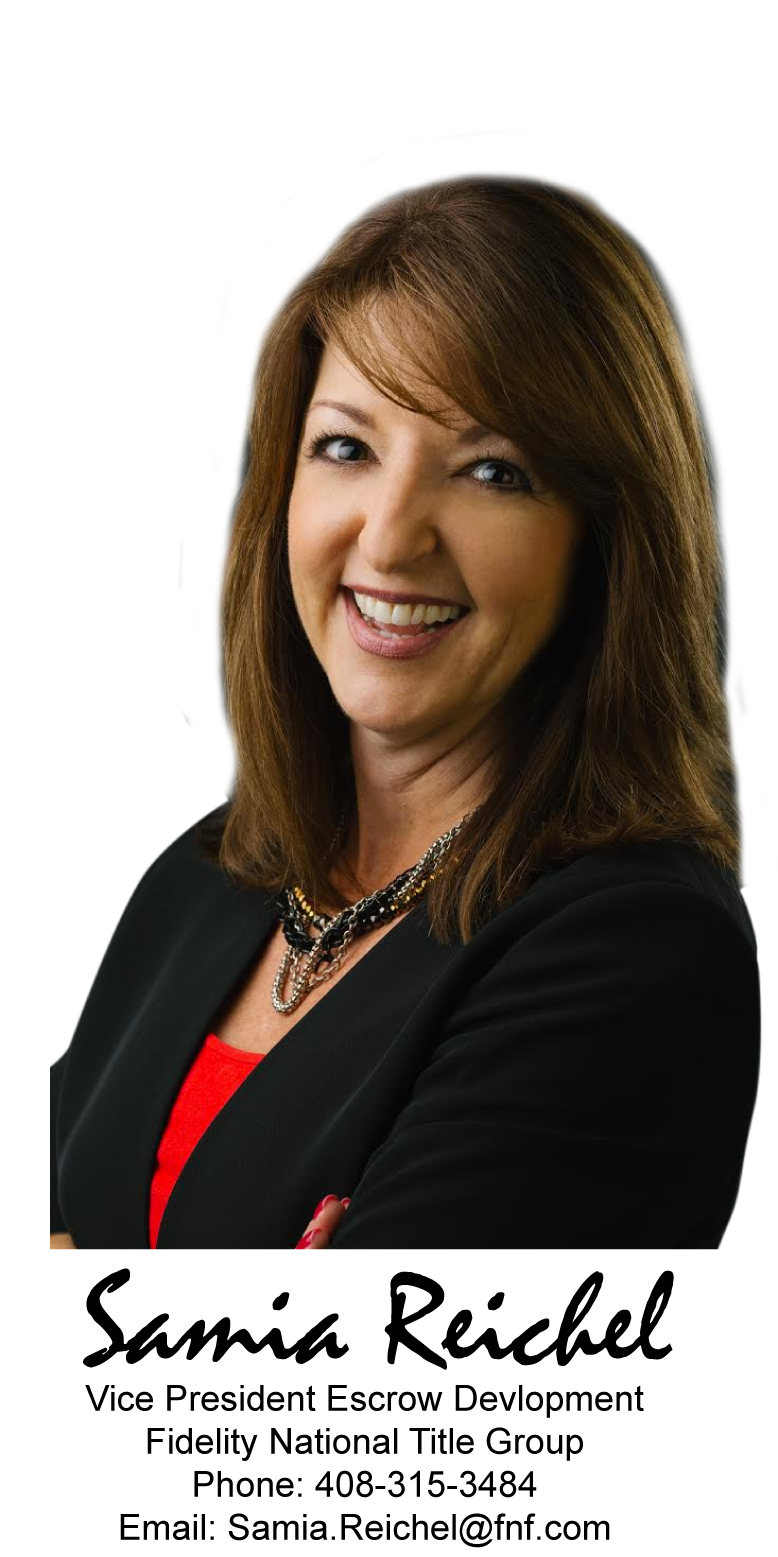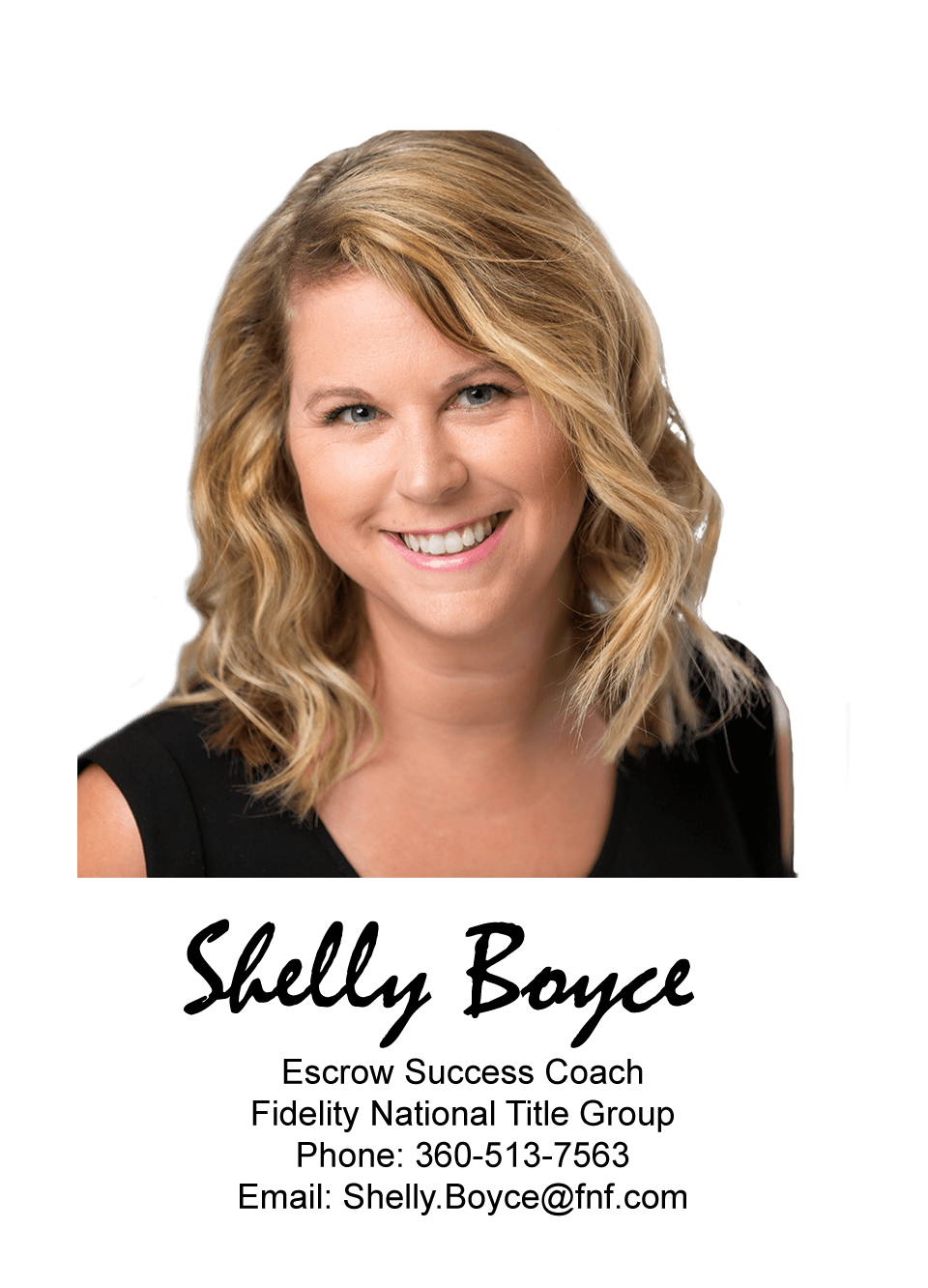 Shelly Boyce exudes kindness and positivity in every aspect of her life.  It is rare to see her without a smile on her face!  Born in Portland, OR, Shelly made Vancouver, WA her home in 2000 and continues to live there with her wonderful family.  Shelly married her amazing husband, Lance, four years ago and brought her daughter, Hayden, to the blended family, joining Lance's 3 boys, Cason, Reece and Liam.
Shelly has over 20 years of experience in the title and escrow industry.  She started as a receptionist and worked her way up to Escrow Officer and Branch Manager for Fidelity National Title in Vancouver, WA where she built an exceptional team culture and a created a standard for excellence that she now brings to Elite Escrow Coaching as a Success Coach!
Shelly takes pride in providing superior customer service to all customers and works hard to achieve meaningful relationships.  She thrives on helping people, is a team player, and always goes the extra mile.  Shelly loves finding the best in people and strives to help others succeed.   These attributes make Shelly a brilliant Success Coach and a valuable addition to the FNTG Elite Escrow Coaching Team!
The Elite Sales Coach/VP of Sales Development is Lisa Crown a veteran in the title business who specializes in creating new & better ways to increase revenue & bring value to her sales executives. Lisa has 18 years of title sales experience and was consistently in the top 1% in Los Angeles, Ca and top 5% in the nation.  Lisa is a master of her craft. She brings experience, tenacity and know how to her role as a coach.
Lisa knows what works and pushes ALL her clients to their potential and to reach their goals…FAST! She always says, "This is NOT a one dimensional program" You learn about yourself, life, business and what you really want! She is by your side the whole time to help you achieve greatness. She has been a Coach for 15 years (7 of those years she donated her time at a non-profit called B.I.L.Y) with a specialty in business growth.
If you know a sales executive that wants to take their business to the next level, Lisa is your gal! She's dynamic, explosive and results oriented. Coaching with Lisa Crown will motivate your sales executive to dominate their market.
Lisa's offers one on one Elite VIP Sales Coaching, Elite Mini buddy coaching, Elite Club for her graduates and Elite Degree for new sales executives.
For more information regarding the Elite Sales Coaching Program, visit Lisa's website.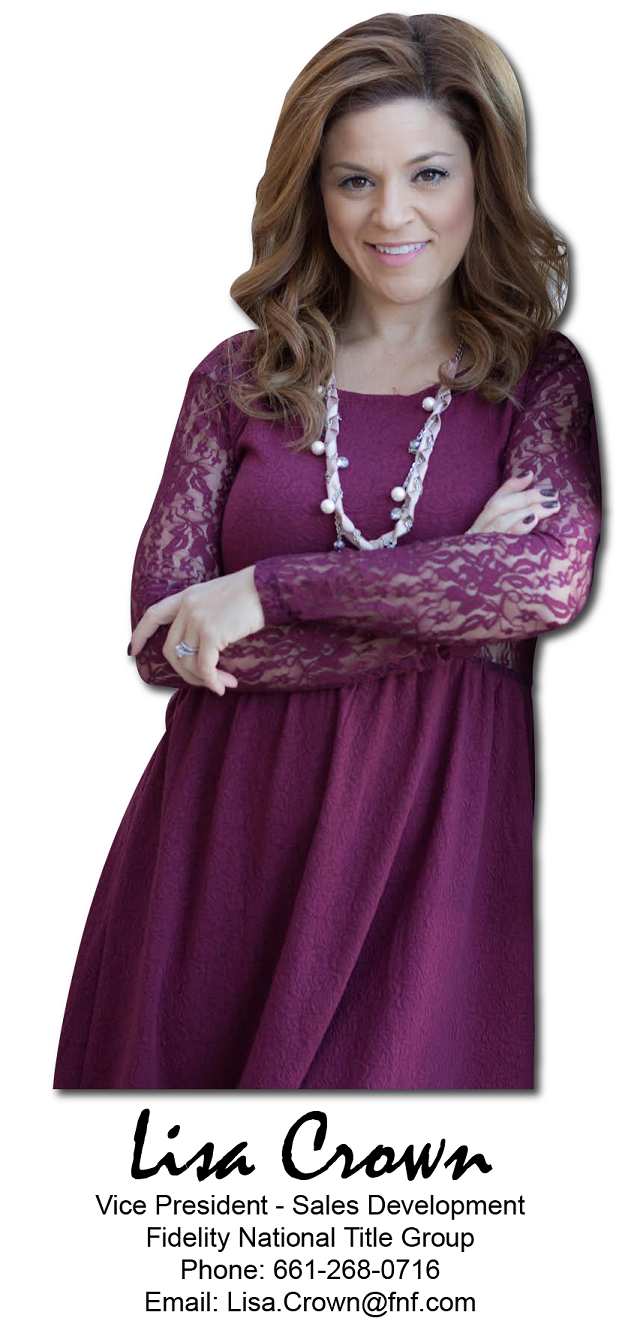 Steve de Laveaga, SVP of Fidelity National Title Group, encompassing Divisions 1, 2, 3 & 5, helps drive Sales and Marketing efforts across the US, to assist their partners and stakeholders in growing their business. Steve has been with FNF as either an employee or contractor for over 14 years.
Most recently, Steve was the Sales Manager for Fidelity National Title – Maricopa, AZ, where he oversaw a profit growth of over 746% in four years, as well as facilitating the top Realtor Mastermind group in the state which encompassed 1.4 Billion dollars annually in production.
Steve has gone on to institute a comprehensive coaching program for Escrow Officers and Sales Executives throughout Fidelity National Title Group. The Elite Sales Coaching Program, for Sales Executives, and the Elite Escrow Enrichment Coaching Program, for Escrow Officers, sold out in 1 week and involves over 25 operations, from across 50 counties, in 15 states.
Mr. de Laveaga said, "Our focus at Fidelity National Title Group is to be the best "Business to Business" facilitator with our clients and prospects in the Real Estate space. We do this by generating additional revenue opportunities in the market, significant cost savings and the ability to engage an abundance of new stakeholders, which otherwise would be difficult for them to achieve on their own."
Mr. de Laveaga is not only a driven leader in business, but also a dedicated husband, father and member of his community. Mr. de Laveaga resides in Gilbert, Arizona with his wife of 24 years, Jodine and their two children, Taylor and Coby.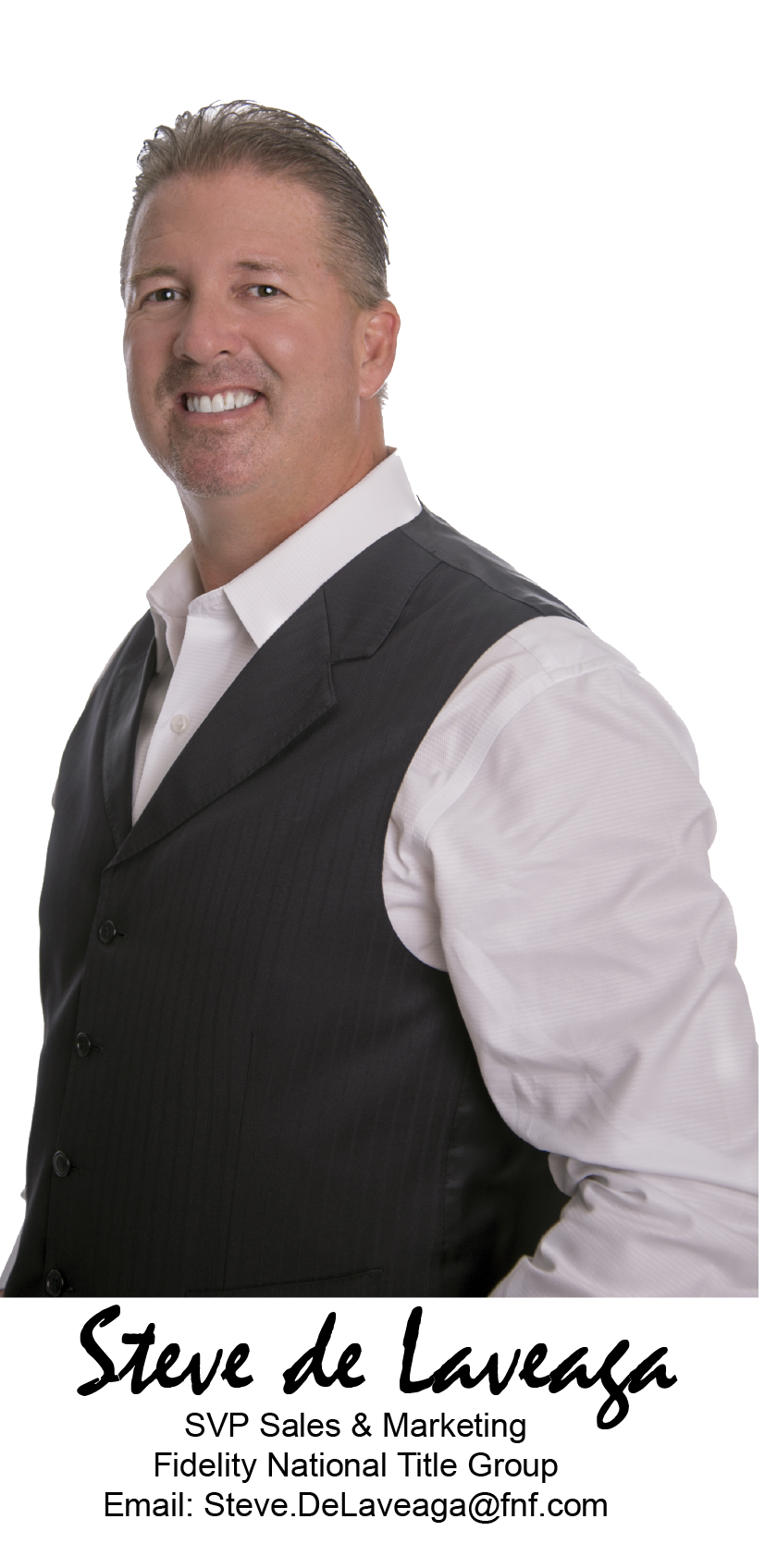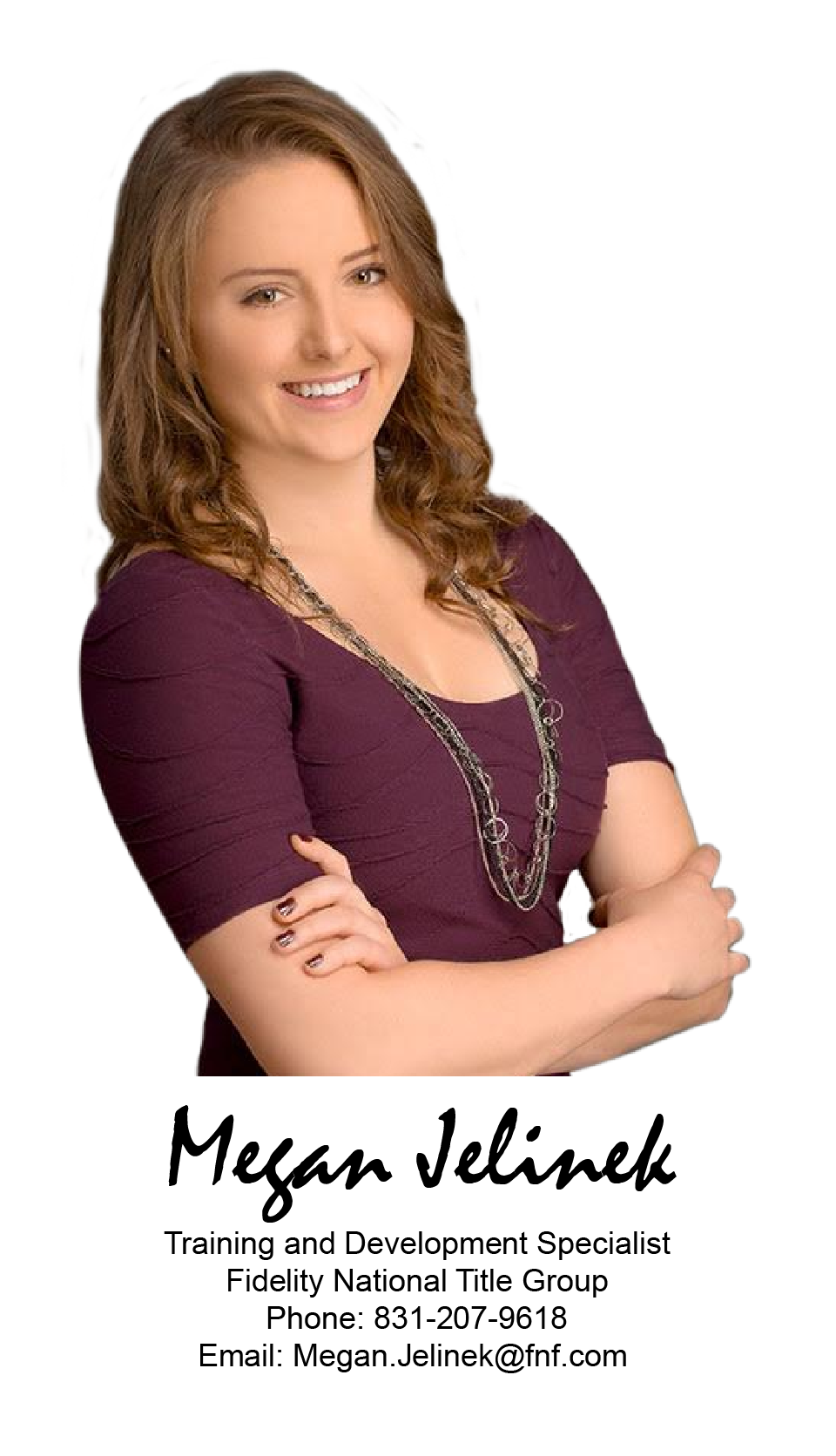 Megan Jelinek is a UCLA graduate with a passion for helping others grow to their greatest potential, personally and professionally.  She brings her millennial mastermind perspective to her role on our Elite Coaching Team. Megan is a former competitive Junior Olympic gymnast and gymnastics coach. She worked her way through college as a coach and trainer before joining our team in 2015.
Megan's education at UCLA and her experience in both the athletic and professional training environments have prepared her for the rigors, methods, and disciplines of her Training and Development role at Fidelity National Financial.  She has an intuition for working with others to build programs based on their individual needs that allow them to attain their goals, whatever they may be.  She enjoys that her career allows her to be creative while coaching and helping others.
Megan is the "middle child" in her family, having an older sister and a younger brother.  Family is very important to her. She enjoys all things health & fitness and loves doing outdoor activities.  Megan believes that with the right attitude, discipline, and hard work, one can accomplish anything.  She knows the importance of bringing positivity and gratitude into every situation, and strives to live up to that standard every single day.