Welcome to Elite Escrow Coaching, a division of Fidelity National Title Group. We are a team of experienced professionals that have walked the walk of the title and escrow industry. We have Elite Escrow Coaching programs designed to propel your business to the next level. This site shows you all of the options for Elite Escrow Coaching. Sign Up Today!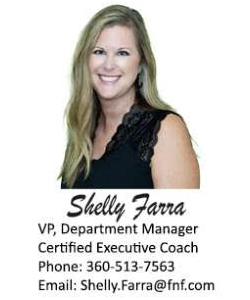 Shelly Farra exudes kindness and positivity in every aspect of her life. It is rare to see her without a smile on her face! Born in Portland, OR, Shelly has spent most of her life in The Pacific Northwest. Shelly is now a resident of Arizona where she is enjoying year round sunshine and the company of her daughter, Hayden and her pups Buckley and Poppy.
Shelly has over 25 years of experience in the title and escrow industry. She started as a receptionist and worked her way up to Escrow Officer and Branch Manager for Fidelity National Title in Vancouver, WA where she built an exceptional team culture and a created a standard for excellence that she now brings to Elite Escrow Coaching as a Success Coach!
Shelly takes pride in providing superior customer service to all customers and works hard to achieve meaningful relationships. She thrives on helping people, is a team player, and always goes the extra mile. Shelly loves finding the best in people and strives to help others succeed. These attributes make Shelly a brilliant Success Coach and a valuable addition to the FNTG Elite Escrow Coaching Team!
Stephany Beck is the Training and Development Specialist for the FNF Elite Escrow Coaching Program. A career goal she has been visioning for years.
Stephany brings not only a wealth of Escrow industry experience and knowledge, but an extensive background as a corporate trainer and a health and wellness success coach. Stephany's approach as both a coach and personally, stems from helping others develop and master their own mindset and overall wellness in conjunction with their professional skills. You will often hear her say "you cannot pour from an empty cup."
Growing up in the PNW, this Golden Girls superfan, loves to adventure outdoors with her pup Irwin. Traveling and spend time with her family are is her love languages.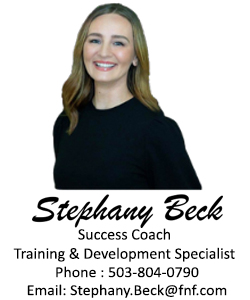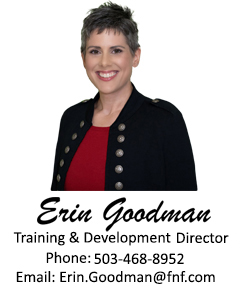 Erin is a seasoned title and escrow veteran with 20 years under her belt. She has a passion for closing escrows and helping others to grow in title and escrow.  She hails from the beautiful Oregon coast, where she spent the last 17 years of her career working for Ticor Title as an Escrow Officer.  She proudly developed & led her team to reach for the stars, and earned a spot in the Top 5% Residential Escrow Officers in the Nation.  As Training & Development Director, Erin leads the FNF Academy, a training program designed to develop FNF's Escrow professionals.  Erin is an avid lover of long walks, the cultural arts, her family & her 2 fur-babies.  She dreams of filling her passport with stamps from her adventures around the world.